Specific arrangements for workstations in production workshops.
TAKING INTO ACCOUNT
THE HUMAN FACTOR
WHEN SETTING UP
A WORKSTATION
The ergonomics of a workstation must serve two objectives:
To enable productivity while ensuring the health and safety of the operator

Provide comfort and efficiency for the operator
Thanks to its experience, its range of components and its mastery of materials, APC can quickly design and build a complete workstation on a production line. When necessary, the assistance of an ergonomist can be used to identify the correct working postures or when the operator suffers from particular physical problems.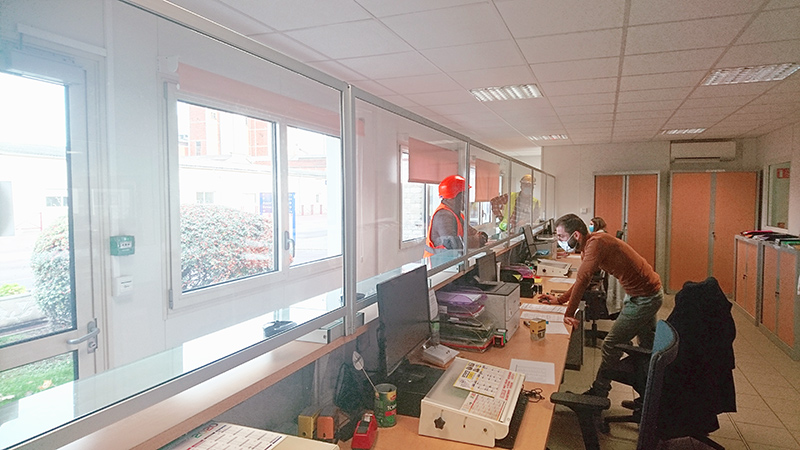 HIGHLIGHTS
Working with an independent ergonomist
Taking the human factor into account
A wide range of accessible components
Integration into a production line
Tailor-made solutions
FOCUS
ERGONOMICS :
In this pharmaceutical-veterinary laboratory, working at the tablet press station was tedious, dangerous and generated considerable discomfort for the operators. The layout designed by APC, in consultation with the operators, made the pressing stations completely safe, while at the same time making the tasks more fluid and without any risk of consequential problems for the operators.
PROCESS :On leaving its injection moulding machine for automotive parts, this manufacturer was looking for an efficient solution to fill 8 boxes directly and simultaneously without a permanent human presence. APC designed an original, transparent static sorter that allows the parts to be oriented directly off the conveyor belt, with no risk of jamming, while greatly reducing the floor space required by the sorting station.
Headlines
Latest projects
APC shares its latest achievements with you, including casing, compliance, specific machining of various plastics and composites, design, and safe working environments for your teams.
SEE ALL OUR PROJECTS